Hi!
I think that Dynalist is the best in class of software for helping with organising projects and life, but there are some minor things which are a little bit annoying in my workflow. So instead of bothering devs who should concentrate on more important things, I decided to change it myself. This stuff is working for me (Mac + Chrome, and quick test in Firefox), but I naturally can't test it in every possible way, so it'll be no guarantee that this will work for you. (you can always ask and I'll try to help)
First script I'd like to share is to modify icons on the left pane (for files and bookmarks) so they become clickable links. If you move cursor over icon it will change to link icon, and if you click it, new tab with this content will be opened.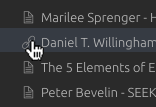 I thought about making folder icon clickable too, so all its direct children could be open with one click, but it's a little bit to close to arrow item for expanding/collapsing and this could lead to accidental clicks and necessary opening of multiple new tabs if you miss. And if you want to quickly open more than one file then you can simply click on each icon with ctrl (or whatever key your browser uses to open tab in background).
EDIT: PowerPack is ready, so don't install script from this post, instead scroll to Open in new tab, sorting, embedding, separators and other "improvements" for more functionality

And here is guide to install browser extension which will handle powerpack script: https://greasyfork.org/en
Anyway, you can install script from here https://greasyfork.org/en/scripts/29966-dynavisiblelinks (refresh tab with Dynalist after that)

More scripts to come and I will publish all of them in this one topic. I think that in the future I will somehow pack them in one 'powerpack' with ability to enable only part of them if you don't want all. If you created something yourself, please share it! I would also appreciate hints on how can I improve my code, I'm software developer, but not JS developer and I'm using this as an opportunity to learn JS