Steps to reproduce
Adding punctuations after # or @, e.g. #/test, @/test
Expected result
They should appear as one tag
Actual result
The tags with punctuations are broken, and only # or @ is detected. Please refer to the screenshot below.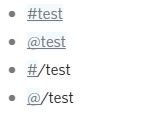 Environment
Desktop and web version (Chrome).
The issue doesn't exist on the mobile app.
---
Additional information
Not sure if it is related to this post, as the bug just appears today.
Would it be possible to fix it soon, as I've been using the tags on daily basis?
Thanks a lot!