Here's some other useful resources on how to GTD that I like using
Dynalist doesn't solve everything for me but I use a number of other tools that make doing things much easier.
I will briefly describe how I use them and how relative to using this with dynalist, to get a better context as a whole of what tools are available
Dynalist
This is how I map out all my project wikis and notes, as well as some of my sprint notes. I put class notes here, not a lot of "open loops" or open task management goes here at all, I mostly use sticky notes
Workflowy
I find workflowy significantly easier to write books than dynalist due to its more microsofty-word formatting nature, but other than that, I prefer dynalist for everything
PhraseExpress
This was mentioned many times in the forums. Its commonly used in the medical industry to accurately transcribe prescriptions. But it also has another program made by the same company, called MouseRecorder. I use this every now and then when I realize that I am repeating the same predictable keystrokes over and over again / mouse strokes for common tasks. I record myself doing a macro → clean it up a little bit → let it run when needed
When I write my macros based on "text commands" , I always use something end it off on the "#" letter.
Like, on thunderbird or email applications, I have my personal signature telling people what my name is, the company i work for, the address, phone, email etc. I use VT# which is short for my initials
The reason I do this is because at no point in time am I typing in a bunch of letters ending with # at any point in time. Whereas the @ sign I would with email addresses, etc. This is how I can guarantee with 100% accuracy my macros work as intended
Timesnapper.
Ruud suggested this, it runs in the background and screenshots your active application every so often. Great to reproduce issues if you come across any problems. Doesn't require anything but a one time setup and you can reproduce any problems you mightve had
This is where I find all my alternatives to programs. All you need is a few keywords and you can find almost any software for any application you want. Text manipulation, GREP tools, screencapture software, REGEX, Grammer correctors, video recording ,etc etc etc
I keep a running log of about 300 softwares that I used or looked into organized by the order I looked at it, so I can figure out all my software setups when I reinstall my PC, etc
inoreader and reddit
I aggregate all my newsfeeds through here. There's lots of great content on reddit and blog forums / youtube to upkeep with, and I organize all my news here. I'm a huge fan of informational discovery and blog/subreddit discovery, so I'm always constantly tweaking these things here
Airtable:
I use this to keep track of most of our FAQ and vendor data at work. I also need to keep track of part # associated with different products in sourcing items overseas, so its imperative I have a relational-database schema
I find microsoft access/ excel / sql /nosql / googlespreadsheets / bulletpoint style setups to be far too user unfriendly and complicated for user-driven entered / complex data, but airtable is amazing
I currently use it to organize books I've read, movies I've seen, TV shows I watched, food recipe shortlinks, and all of the relational database asset managements for our company
Dynalist is still where I use to track my stream-of-thought-process and all my project wikis, and my changelogs on every other project I work on
ShareX / screenpresso / techsmith snagit
this is what I use to make all my images and gifs on this forum very quickly. i use sharex. Currently I used about 7000 images+ gifs with imgur hosting, I manage all these asset links in dynalist notes / blogs wherever they are and have some workflow redundancy methods incase imgur.com breaks
FollowUpThen email system
I send out lots of purchase orders. I manage lots of email addresses/inbox. I use thunderbird as my mail client. Sometimes its a pain to keep track of all of these things
I use followUpThen email system to keep track of "forgetful receipients" all the time. FollowUpThen is a 3rd party provider that you send emails to, and it sends ti back depending on the requirements you set on it
Its free for so many emails a month
I normally try to think 10 steps of ahead of any forseeable problems in general . I might encounter when sending emails to people. Normally, a lot of problems have happened in the past, because someone forgot to followUp with my emails and then I forgot to remind them again to do it
I find that on average, I have to remind a forgetful receipient to do something again 1 in every 4 emails, so its imperative that I keep track of this. I use this to do tracking on lightweight-CRM (Customer relation management), so there's a higher % of receipient who will flat out ignore my emails.
What I do is the following:
Setup my default email to include BCC (Blind copy) to 1week@FollowUpThen.com . I choose 1 week as my standard and modify it if I need to later

If an email doesn't need following up on, I just delete the BCC Field when i send an email out. This way, I will always by sent a reminder for important emails even if I forget to specify a return mail
This is how I set it up:
and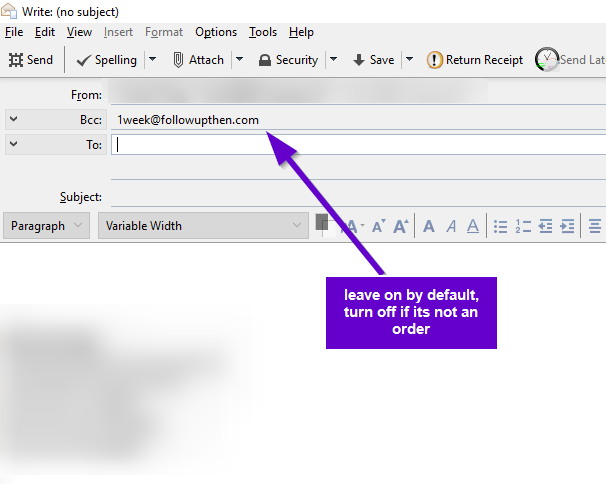 This works really well for me since I can guarantee a project will succeed on my end even if someone is lazy and doesn't respond to my email right away or forgets, or can't manage their emails properly
Microsoft Visual Studio Code
this program is amazing. I really liked using sublime text in the past, but it didn't integrate with git workflows that well except with command line interfaces, and this program practically works on any language I'm interested in
Hardware
a mechanical keyboard + gaming mouse + a good gaming PC rig are musthaves imo for getting things done fast.
i would also sugegst looking up vertical document holders, scanners, etc which are really useful too
---
those are my favorite programs right now,