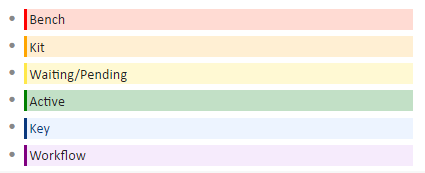 Having developed a system in Workflowy, I've been seeing what's possible when adapting to the unique features of Dynalist. I'm finding the colour feature quite useful, particularly as it is shared in the desktop and mobile platforms (one of the limitations of the Stylish add-on). Visually they have become quite an important means of using the outlines.
This is the structure I'm working with at the moment:
BENCH - information that I am currently working on, including links to other sections currently in use
KIT - links in regular use, such as spreadsheets or shared Google documents
WAITING - something pending a response from someone else
ACTIVE - a tasks currently being understaken
KEY - a link regularly accessed, such as an Airtable contact database
WORKFLOW - a set of actions that are often repeated (they are copied into the BENCH)
As you can see, there's some double up with Bench-Active and Kit-Key. I prefer to keep items that are Active and Key in their outline context, rather than removing them to the Bench or Kit sections.
I'd be curious to know other uses of colours, besides priority.