I chose the bug category for this, but it's a bit of a grey area …
Anyway, I am interested here in how dynalist does this within the current document (I know it prioritises the current document over others and this seems to work for me so I'm not concerned about that).
Let's start with the below nodes: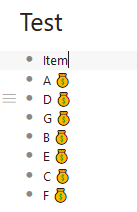 If I initiate the move dialogue on the 'item' node I get the below, which seems to suggest that the suggestions in the dialogue are ordered from top to bottom according to their order in the document rather than e.g. alphabetically - - it also doesn't seem to matter where the test item is (e.g. in the below I have it in the middle of the list).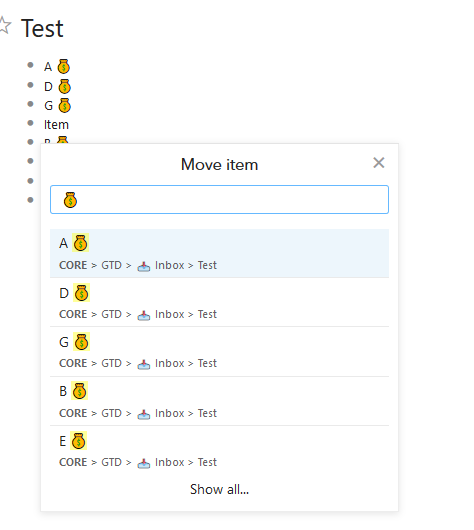 I am therefore a little confused why this same behaviour isn't occurring in another context, my diary. I created a test version of this in its own completely separate document which looks like this: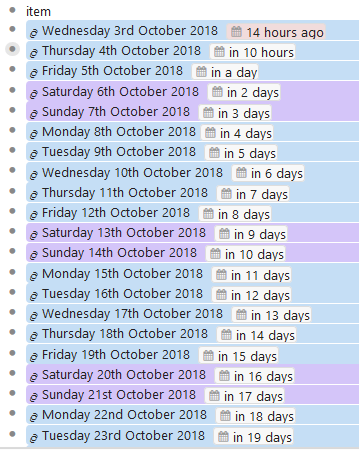 If I try to move an item using the ࿂ symbol I get the following: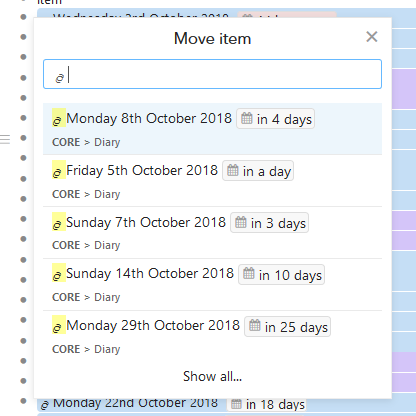 other searches give the same thing e.g. 'Monday':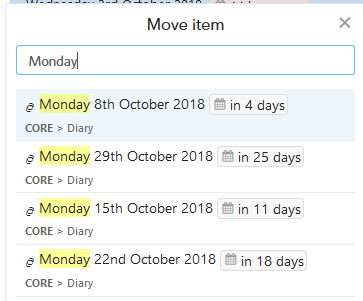 So why aren't these items being suggested in order, like in my test example? Can anyone from dynalist explain why this might be (all these suggestions are in the same document)? It would be really nice to figure this out as, firstly, when sending items to a day, it's much quicker and easier if they are in their natural order. Furthermore if (as it seems) your general intention is for suggestions to appear in their natural order, this seems to be a bit of a bug.