Ok maybe this is just me (posting just in case not), but I had been under the impression that you couldn't do nested OR AND searches in dynalist. If you already knew you could, stop reading now.
So if we take these four items: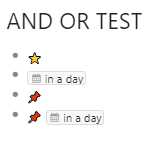 I want a search which brings up my focus tag (

) and any date with a deadline (

) within the next week - I don't want any date within the next week, and I don't want deadlines later than one week. And if I do this search:

I get the following items: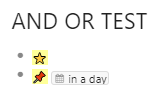 which is exactly what I want!
Yea, maybe this is just a surprise to me … it works with however many OR statements you like
If nothing else was useful here, the system above does allow you to distinguish between start dates for items and end dates, using the

modifier - you can have two dates on a single task and this will work fine. So my full search is actually:

OR within:-7d [start date either today or one I've missed] OR

within:7d [deadlines within the next week]