Thank you! I feel good to showcase my Dynalist system. Others will have bigger and better setups. Please share those too!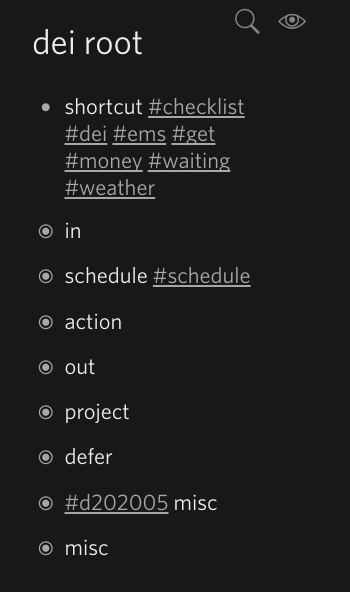 The OPML export is 6.4MB, plain text is 4.6MB. 61,620 lines, 626,584 words. It includes:
Journaling since 2011 from Evernote days
Calendar (schedule) and GTD notes since 2014 with Workflowy

#profile

for anyone noteworthy
All of my bookmarks
(zero need for another bookmark manager)
Google Drive document links
(Dynalist should integrate with Google Drive!)
a year of college and drafting papers
a few favorite short stories
some lists copied and revised quite a few times
(I should pair those down)
zero styling or scripting. Just text and urls.
etc.
I still prefer paper for some things, such as The Pomodoro Technique. Those I photograph to my HD.
All of this will be important when I transfer to silicon.