Steps to reproduce
Occasionally, like four times per hour.
I hit enter, and the line will break a few lines above even though the cursor is not at that position.
Expected result
To make a new bullet point.
Actual result
The line will break at a random point some lines above.
When I am trying again - it happens again.
The only way to overcome this problem is to make a new line on a different level and bring the newly written sentence to the same level afterward.
It won't let me do it below anymore.
Environment
Mac Sierra
Safari
Grammarly installed.
---
Additional information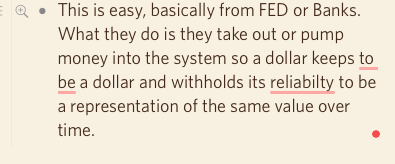 Cursor is not appearing in screenshot but at the end of the text block.
Next pic after "Enter", but the line break is somewhere completely wrong: