I created this bookmarklet for writing blog posts with Dynalist.
javascript:!function()%7Bvar%20list%3D%5B%5D%3Bfunction%20child(x%2Cy%2Cz)%7Bvar%20s%3Dx.children(%22.Node-self%22)%2Ch%3Ds.attr(%22class%22).contains(%22is-heading1%22)%3F1%3As.attr(%22class%22).contains(%22is-heading2%22)%3F2%3As.attr(%22class%22).contains(%22is-heading3%22)%3F3%3As.attr(%22class%22).contains(%22is-heading4%22)%3F4%3A0%2Cn%3Ds.children(%22.Node-openNote%22).attr(%22title%22)%2Cc%3Dx.children(%22.Node-children%22).children(%22.Node-outer%22).children(%22.Node%3Anot(.is-checked)%22)%3Bc.length%3E0%3F(z.push(%7Btitle%3Ax.children(%22.Node-self%22).children(%22.Node-contentContainer%22).children(%22.Node-content%22).text().trim()%2Cnode%3Ay%2Cchild%3A!0%2Cheading%3Ah%2Cnote%3An%7D)%2Cy%2B%3D1)%3Az.push(%7Btitle%3Ax.children(%22.Node-self%22).children(%22.Node-contentContainer%22).children(%22.Node-content%22).text().trim()%2Cnode%3Ay%2Cchild%3A!1%2Cheading%3Ah%2Cnote%3An%7D)%3Bfor(var%20i%3D0%3Bi%3Cc.length%3Bi%2B%2B)child(c.eq(i)%2Cy%2Cz)%3Breturn%20z%7Dp%3D%24(%22.is-currentRoot%22)%2Ctext%3Dchild(p%2C1%2Clist)%3Bvar%20titletxt%3Dlist%5B0%5D.title%2Cpnote%3Dp.children(%22.Node-self%22).children(%22.Node-openNote%22).attr(%22title%22)%2Couttxt%3Dpnote%3Fpnote%2B%22%5Cn%5Cn%22%3A%22%22%2Cunindent_lv%3D0%3Bfor(i%3D1%3Bi%3Clist.length%3Bi%2B%2B)0!%3Dlist%5Bi%5D.heading%3F(outtxt%2B%3D%22%5Cn%22%2BArray(list%5Bi%5D.heading%2B1).join(%22%23%22)%2B%22%20%22%2Blist%5Bi%5D.title%2B%22%5Cn%5Cn%22%2B(list%5Bi%5D.note%3F%22%5Cn%22%2Blist%5Bi%5D.note%2B%22%5Cn%5Cn%22%3A%22%22)%2Cunindent_lv%3Dlist%5Bi%5D.node%2B1)%3Aouttxt%2B%3D(list%5Bi%5D.node-unindent_lv%3C%3D0%3F%22%22%3AArray(4*(list%5Bi%5D.node-unindent_lv)).join(%22%20%22))%2B%22-%20%22%2Blist%5Bi%5D.title%2B%22%5Cn%22%2B(list%5Bi%5D.note%3F%22%5Cn%22%2Blist%5Bi%5D.note%2B%22%5Cn%5Cn%22%3A%22%22)%3Bfunction%20escape_html(string)%7Breturn%22string%22!%3Dtypeof%20string%3Fstring%3Astring.replace(%2F%5B%26'%60%22%3C%3E%5D%2Fg%2C(function(match)%7Breturn%7B%22%26%22%3A%22%26amp%3B%22%2C%22'%22%3A%22%26%23x27%3B%22%2C%22%60%22%3A%22%26%23x60%3B%22%2C'%22'%3A%22%26quot%3B%22%2C%22%3C%22%3A%22%26lt%3B%22%2C%22%3E%22%3A%22%26gt%3B%22%7D%5Bmatch%5D%7D))%7Dw%3Dwindow.open()%2Cw.document.open()%2Cw.document.write('%3C!DOCTYPE%20html%3E%3Chtml%20lang%3D%22ja%22%3E%3Chead%3E%3Ctitle%3EDyn2Md%3C%2Ftitle%3E%3Cstyle%20type%3D%22text%2Fcss%22%3Etextarea%7Bwidth%3A100%25%3Bheight%3A500px%3B%7Dbutton%7Bwidth%3A100%25%3Bheight%3A50px%7D%3C%2Fstyle%3E%3C%2Fhead%3E%3Cbody%3E%3Cbutton%20onclick%3D%22copyToClipboard()%22%3Ecopy%20and%20close%3C%2Fbutton%3E%3Ctextarea%20id%3D%22ta%22%3E'%2Btitletxt%2B%22%5Cn%5Cn%22%2Bescape_html(outtxt)%2B'%3C%2Ftextarea%3E%3C%2Fbody%3E%3Cscript%3Efunction%20copyToClipboard()%7Bvar%20ta%3Ddocument.getElementById(%22ta%22)%3Bta.select()%3Bdocument.execCommand(%22Copy%22)%3Bwindow.close()%7D%3C%5C%2Fscript%3E%3C%2Fhtml%3E')%2Cw.document.close()%7D()%3B


Feature
Export a zoomed node and its children nodes recursively.

Checked nodes are ignored when export.
Collapsed (invisible) nodes are ignored when export.

Nodes have heading level in Dynalist is exported to Markdown header # h1 ## h2 … .
Nodes don't have heading level is exported to Markdown list - list with indent.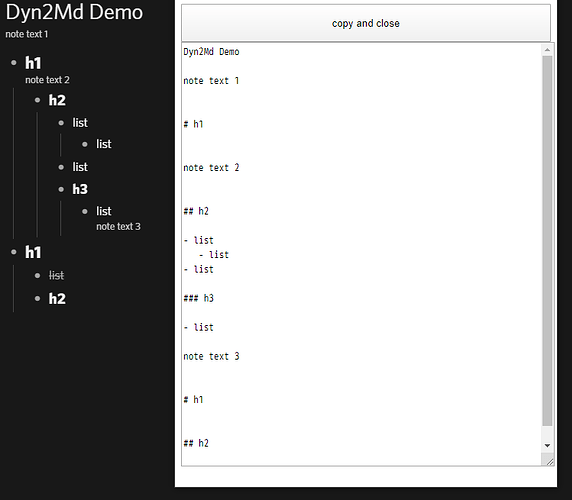 How to use
Set heading level to node you want to export as header in Dynalist.

The first child node must has heading level.

Add bookmarklet script to your browser's favorite. (script is instead of URL)
Open Dynalist with browser.
Zoom in to a node that is root for export.
Click bookmarklet. Then a new tab is opened.
Click "copy and close" button to copy markdown to clipboard and close the tab.
Paste anywhere.
Enjoy!