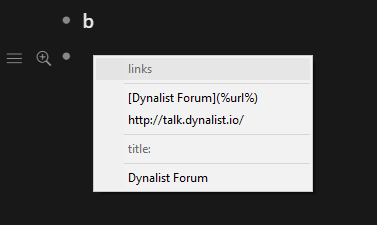 heres a basic autohotkey script that uses the hotkey alt + d to get the title and url from a webpage in one go instead of having to back and forth to get both of them.
when you are back in dynalist use the same alt + d hotkey again to show the menu with the page details, then click on an item to send the text to dynalist
at the top there will be a combination of different page titles that will made into a markdown link syntax. %url% will be replaced with the actual url when you click on it
underneath will be the full url and then the page titles again but just as plain text
if any text was selected when you used alt + d then that will be added to the end of the menu. if the selected text was longer than 60 characters then it will show as >%selected text%<
installing autohotkey
go to autohotkey.com, click on "download", then "download autohotkey Installer" and then run the .exe
download the script from this page by clicking the "download zip" button at the top right of the screen.   extract dynaclip.ahk and put it somewhere else and then double click it to run it.   you should be able to see the script running in the tray menu at this point.
right click the tray icon to get options to exit the script or if you want it to start every time windows boots up then select the "start with windows" option