Hello hello,
I do a lot of writing in dynalist, getting papers, blog posts and even books far beyond first draft state - it's a wonderful tool for this and I know others do the same. Something which would be really nice for this, but also for many other situations (wherever you have a big document with deep structure) I think would be to have a pane (alongside files / bookmarks / tags) which shows the nested structure of your document according to three heading types we have, allowing you to click on any one of them to go to that section of the document instantly. This would basically just be exactly like the navigation pane in Microsoft Word or similar word processing documents a la: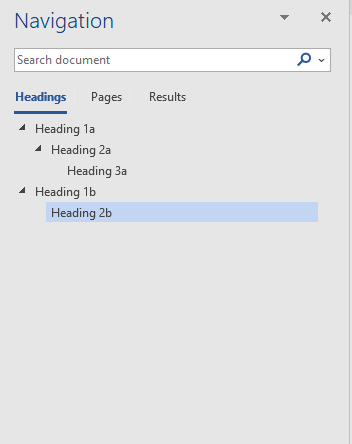 As I say this wouldn't just be helpful for writing - this would reduce the need to bookmark everywhere you regularly go, and would instead provide a set of easy-to-go-to points which would be document specific. Currently bookmarks are global, and so this would provide a sort of local-bookmark system just as we have global / document level tags.
Thanks for listening!
Stephen