Steps to reproduce
I get this sporadically and don't have a reproduce method but I figure it's worth mentioning.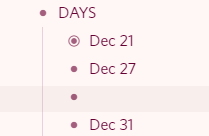 For example, with the cursor on the blank line I can press up no problem and go up a few lines. And I can go down again, but once it reaches the blank line, I can no longer go down. I can press Right to go to the next line. I can type a letter and then I can go down. But if I delete the letter I can't.
Yet, if I make new blank lines, these lines do not have this problem. There is something wrong with this one line that won't let me cursor-down.
Environment
This is a Windows 10 Chrome App.