Really excited to centralize my task/project management for my life and business in Dynalist! As I have a small team of remote team members, one thing I'd like to track is the # of tasks/activities being completed on a daily basis… almost like a daily digest or weekly report…
The key thing I'm looking for is to see that my team members completed 10/10 tasks or 99/111 tasks over the last day/week/month/quarter so all members can be held accountable. Streaks, etc. would be bonuses but not essential.
Something like the examples below, one is from ToDoist… How is this possible? I imagine it can be done by exporting data via the API? Has anyone achieved something similar?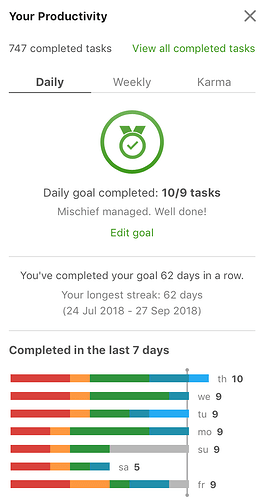 Screen Shot 2021-01-18 at 10.29.14 PM|690x239